Description
Introduce: NT series nano insulation slat is made of nano SiO2, TiO2, Al2O3, etc., based on the principle of nano pores, using a variety of materials, through special technology. Heat insulation effect is 3~5 times of traditional materials, stable performance, space saving, environmental protection and energy saving.
Advantage: Ultra-low thermal conductivity and heat loss;  Small heat storage;  Reduce the thickness of the insulation layer;  Temperature homogenization;  Good thermal stability;  High environmental protection and safety;  Easy to cut and process molding;  Long service life.  
Application: Steel industry (tundish, ladle, torpedo tank); Petrochemical industry (cracking furnace, hydrogen furnace, reformer furnace, heating furnace); Glass industry (float pool kiln, tempering furnace, hot bending furnace); Industrial heat treatment furnace industry.
standard size: (1000/500) * (600/500/250) * (5 -50) mm; (25000/20000/7500) x (1500/1200/910) x (3 -10) mm; Special specifications and sizes can be produced according to customer requirements.
Spacifications: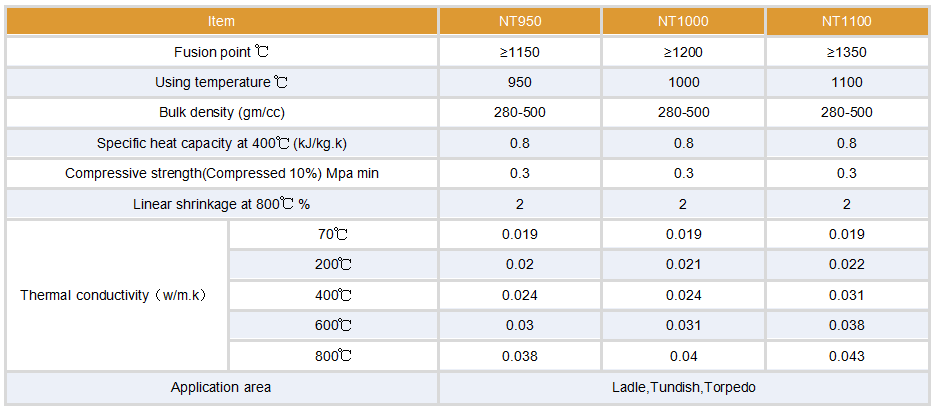 介紹:NT系列納米絕熱板是以納米級SiO2、TiO2、Al2O3 等為主要原料,基於納米微孔原理,采用多種材料,經特殊工藝製成。隔熱保溫效果是傳統材料的3~5 倍,性能穩定,節省空間,環保節能。
產品優勢:超低的導熱系數和熱損失;蓄熱小;降低隔熱層厚度;溫度均勻化;熱穩定性好;環保安全性高;容易切割和加工成型;使用壽命長。
應用:鋼鐵行業(中間包、鋼包、魚雷罐);石油化工行業(裂解爐、製氫爐、轉化爐、加熱爐);玻璃行業(浮法池窯、鋼化爐、熱彎爐);工業熱處理窯爐行業;
標準尺寸: (1000/500)×(600/500/250)×(5-50)mm;(25000/20000/7500)×(1500/1200/910)×(3-10)mm;特殊規格尺寸可按客戶要求生產。
產品技術參數: